Click to ReTweet this article – https://ctt.ac/TK5nQ
True struggles were finally outed for embattled Inner-western suburbs university student and influencer, Ketchup Sharmautar, as he opened up to his month long struggle to find anything ridiculous, yet natural, to post about trying to his 13,222 followers.
"It's not easy being me." confessed Ketchup, "And it's not like you can just make these up. Getting the correct balance between something left-field enough to capture attention, while still being natural enough and marketable to make a decent margin through my online store."
"The gold rush is over. The Good Old days of Urine Smoothies and Coffee Enemas are gone. You just can't be original without risking organ failure these days." He sighs.
When asked why he didn't just promote good, healthy advice, Keshav had this to say. "You try selling people evidence-based advice. It's boring. Like and follower suicide."
While it is true that the best weight loss solutions involve a bit of work and conscious control of some dietary habits, the explosion of Instagram Stars online has fueled more and more misinformation. Cancer Researcher Nikhil Autar points out that cancer patients who took alternative medicines have a 2 – 5.7x higher rate according to numerous studies, with various factors to blame. But you don't care about those peer-reviewed sources! Read on!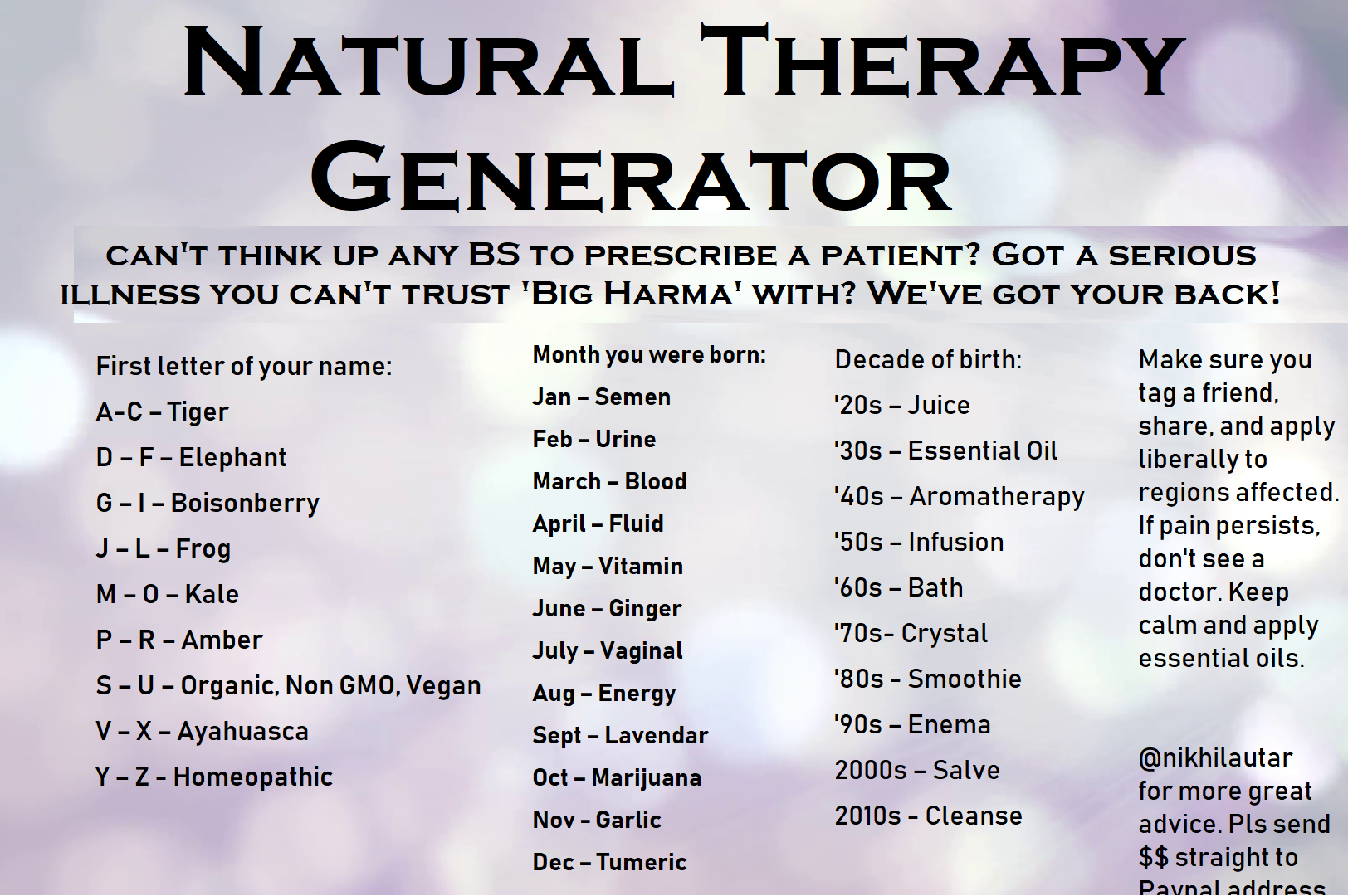 "This used to work wonders, until every single combination literally ran out. How am I supposed to get validation from my friends on Facebook now? To share the official Complimentary Medicine Organisation generator, or to comment your own natural therapy – click here.
"I tried everything. From picking through compost mounds and pulling out random combinations of fruits and veg, to using Alternative Medicine Generators, nothing worked!" exclaims embattled 24 year old star, Ketchup. "Since my amazing vitamin company that I'm-not-allowed-to-say-the-name-of-in-public-but-am-allowed-to-if-you-DM-me went belly up, I've actually considered selling pharmaceutical products on Instagram."
"I don't have an obvious disability or anything. Apparently pharmaceuticals have enough ethics to insist on that." scoffed the little prick, while examining his hairline on his phone's front-lens camera. "But I'm sure I could pull a Gibson on people and call it a prank." he laughed.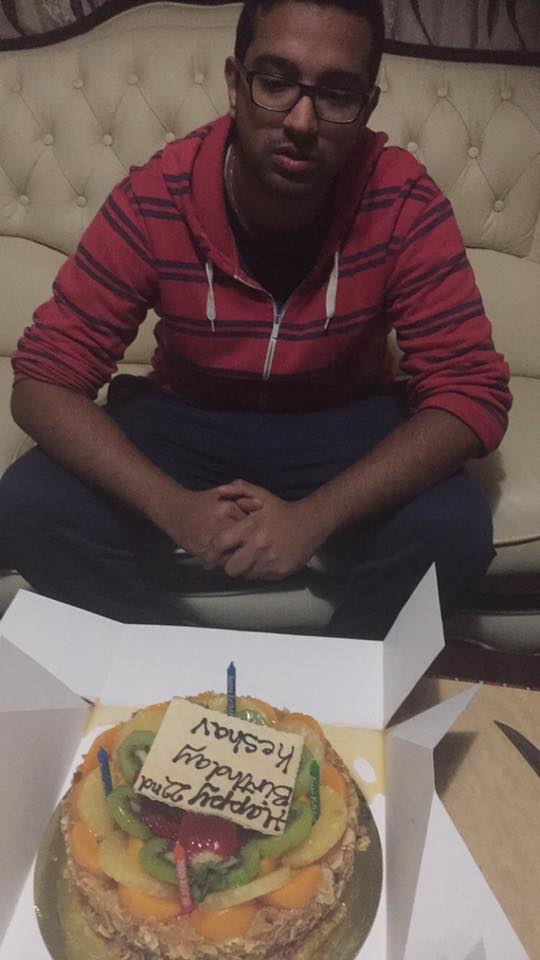 Instafamous Entrepreneur, Ketchup, Pictured here, understandably disappointed by an eggless sugarless cake he was forced to plug during birthday celebrations.
"You know how hard it is to get alternative cake that's Vegan, Gluten and GMO free AND Organic these days??? Of course it tasted shit."
Pharmaceuticals are actually selling real medicines via Instagram in a desperate bid to reduce sales budgets, which now are greater than 3x R&D spend. "We saw the amazing successes of completely made up things… We figured our actually proven stuff would sell like hotcakes.
Influencers are conflicted, however. "I'm not sure if something shown to work can be alternative enough to match our audiences." pouts 80% of all Instagram models selling you a juice cleanse. "I mean I LOVE the fact that they cost followers thousands, as that generates large profits from me. But the whole 'proven to be safe and effective through numerous clinical trial things' doesn't really sell as much as you think it does."
This has not been Nikhil Autar (not the Nikhil Autar who was interviewed before, or who's in the URL of this article), I swear, and you should definitely NOT subscribe to his infrequent email list if you approve of alternative medicines being able to make whatever claims they want. PS – next time, I talk to another legit Instagram Influencer who insists his pyramid scheme shaped business is actually just a triangle on this episode of #MedicalFactz
If you wanna learn about that time that I was almost killed by misinformation spread by a guy trying to sell me supervitamins from his "Not a pyramid scheme because pyramid schemes are illegal and we're still being prosecuted right now" multi-level marketing company – click here.
To lend your voice against social media stars/alternative medicine practitioners who DON'T MAKE DISCLAIMERS THAT WHAT THEY SAY OR DO IS NOT MEDICALLY PROVEN OR SHOWN – something they legally should be doing – click here. If you wanna tweet about the change.org campaign – click here. 
Click here if you wanna tweet this article to your followers!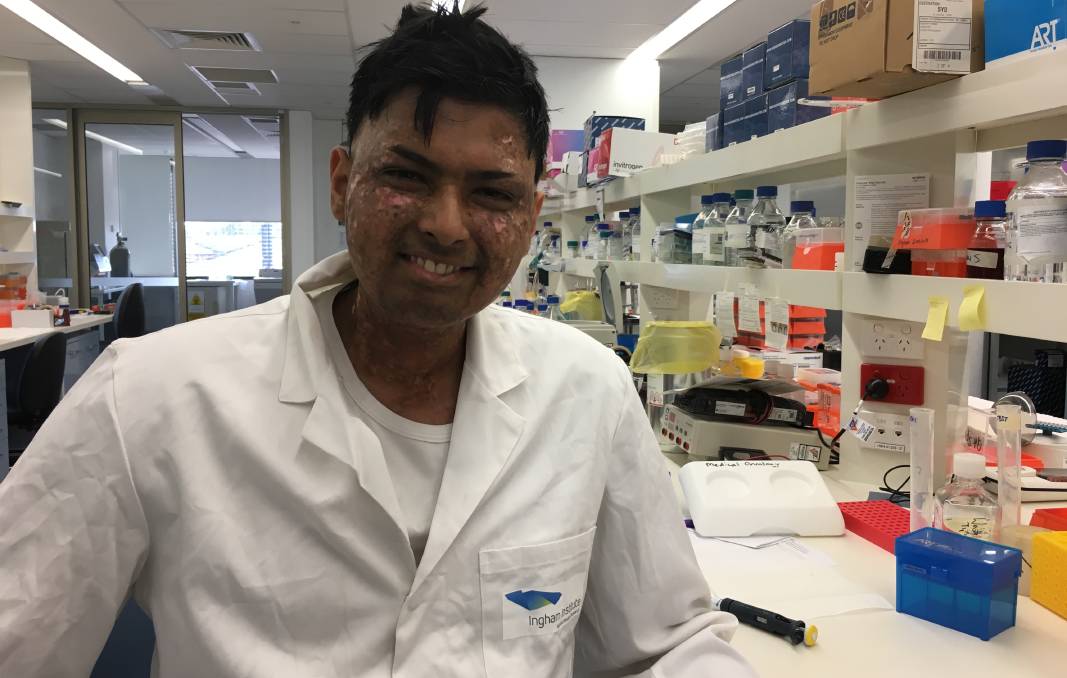 I wanna make it sure this is absolutely clear, this is NOT Nikhil Autar who wrote this and you should NOT check out his Instagram or social media accounts – @nikhilautar .
And you should DEFINITELY NOT listen to what he says just because he's a researcher and is pictured in a lab coat in a certified lab. Because even he'd say to fact check EVERYTHING you see via credible sources!