I just found out today that I'll be pitching at TedX Sydney for a $40,000 grant to back my lifesaving startup – Get to Sleep Easy!
It's a competition called St George Kickstart, and TedXSydney is one of the biggest franchises of Ted out there. It's such an amazing honour!
When I started out trying to find a solution to this invidious problem of #preventablecomplications (falls, pressure sores and pneumonia), I knew it was a big problem.
When we started talking to nursing homes and hundreds of caretakers, doctors and nurses homes, we knew our Smart Inclining Bed would save lives.
And now we have an opportunity to present in front of thousands of changemakers and to win this prestigious prize that will allow us to clinically trial our products and get it to market faster.
I'm stoked. Looking so forward to it. And excited about the further impacts we will make!
GetToSleepEasy.org to find out more about our #SmartIncliningBed and how much of an impact it could make… not just to vulnerable people's lives, but also your sleep (and your neck when you Netflix in bed 
:p ).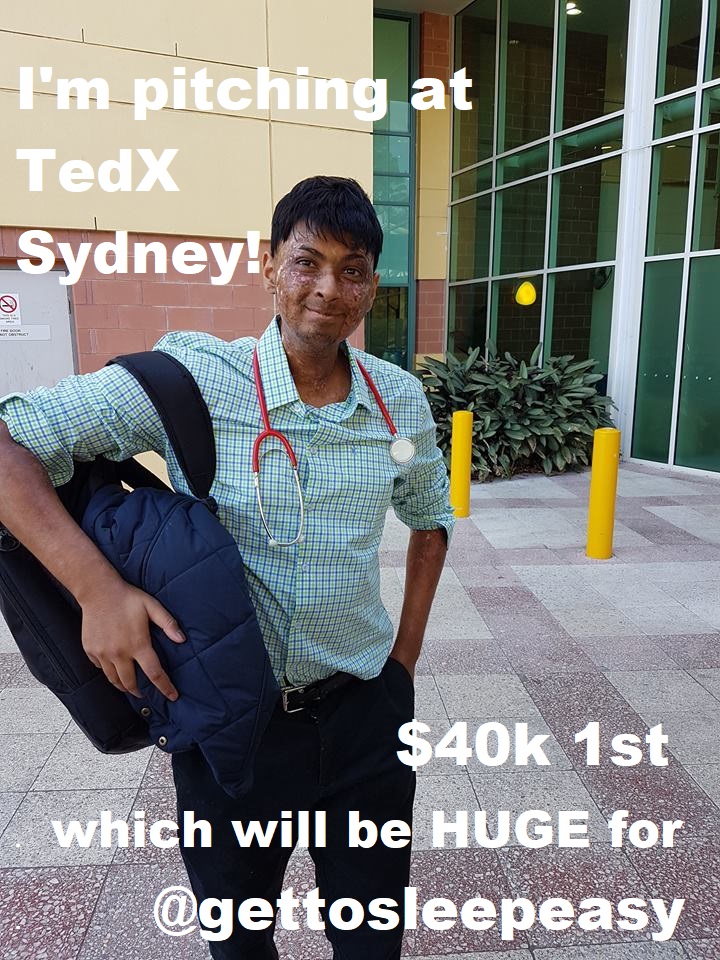 If you wanna have a look at my script and give me feedback in preparation for this – please check it out by clicking this link. You can leave comments and advice there, for sure! I'm looking forward to receiving any and all advice regarding this!
Also – sign up to my email list to keep updated on this, and on other things medical, funny and me!
Check out what we do at Get to Sleep Easy in this sweet little demo vid below!